Over the years, Maîtres Laitiers du Cotentin have developed a new approach of dairy industry, building ever more modern and state-of-the-art factories and providing quality and tasty prestige brands. The cooperative, 100% independent and owned by its producers, now offers a quality national distribution network promoting treasured values like equity, sharing, solidarity and transparency. With this in mind, since April 1st, 2020, the agrifood company has been providing its consumers with dairy products composed of GMO-free pasture milk complying with the standards in force.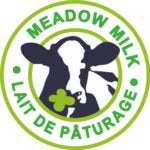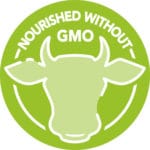 What is GMO-free pasture milk?
Pasture milk is milk from cows that are bred on pasture much of the year. Our many producers located in the heart of Cotentin strictly comply with label-imposed specifications, guarantying consumers with quality products and herds well-being.
Thus, in order to obtain the "lait de pâturage" designation (pasture milk designation), our different milks meet several strict criteria:
Cows must graze at least 120 days/year and at least 6 hours/day
All eligible milking cows must graze at the same time
Grazing must start no later than June 15th
10 milking cows max. per hectare
Since April 1st, 2020, our pasture milk is also GMO-free. This means that our cows are exclusively fed with food produced on our farms or GMO-free guaranteed (<0.9%). In addition to the ever-green pastures in Cotentin thanks to our temperate and humid climate, our herds benefit from dried grass and soya or rapeseed GMO-free fodder bought from certified OQUALIM-STNO suppliers.
Our priority: ensuring the well-being of our animals and consumers
Why choose GMO-free pasture milk? First of all because it is food produced with deep respect for the environment and biodiversity. Then and, thanks to these measures, we take into account the well-being of our animals, ensuring them a natural and more pleasant daily rhythm.
Our cows can thus graze on meadows that provide a wide variety of fodder species which guarantee a milk rich in energy, omega 3 and protein.
Clover
Fescue
Orchard grass
Alfalfa
Ray grass
Food based on sound and adapted plants and optimal living conditions are the secret to obtain a milk with great taste and nutritional qualities for our consumers.